"As tough as General Petraeus, as compassionate as the Pope, as tireless as Michael Phelps, as beautiful as Tina Turner, and with a work ethic to rival Bill Gates." That was how Kirsty Young, presenter of BBC Radio 4's Desert Island Discs, introduced her guest, Edna Adan Ismail, quoting an article written about Ismail five years ago.
Ismail is well-known as an activist and pioneering force in healthcare in her home, Somaliland, the self-declared republic in the Horn of Africa, where she opened its first maternity hospital, among the ashes and rubble of the war that had affected the city of Hargeisa and its surrounding area.
On the flagship Radio 4 programme, the guest—known as the castaway—is asked to choose a couple of tracks they would take if they were to be cast away on a desert island. Ismail's first was Pharrell Williams's 'Happy', which Ismai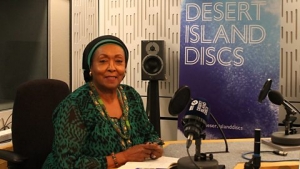 l first encountered while on transit in Dubai, on the way to Somaliland, tired and angry with the airline for having lost her luggage. It was then that she heard Williams's track, the most successful song of 2014, which, with its chirpy tune, was suitably disarming and settling.
People come to the Edna Adan Maternity Hospital from across Somalia, Ethiopia and Djibouti. It is the only hospital in the Horn of Africa that inserts shunts in babies' heads to treat Hydrocephalus, the condition where a child is born with an enlarged head due to fluid accumulation within the brain. If parents had taken their children abroad, treatment would cost them $15,000; at Ismail's hospital—"a bright, shinin beacon" among the sandy streets of Hargeisa—it is free. "Lots of credit in the bank upstairs," says Edna modestly.
The second of Edna's chosen tracks, and the only Somali one, was Cabdi Nuur Alaale's Maxay Dantu Ciishay Wiiloo. A song of resistance, it tells of hope—that despite the drought, the famine, the reprieve is in sight and the rains will soon fall. Remembering herself as a "very passionate student", Edna spent seven years in the UK to train as a midwife and as was the norm at the time, was often the "only black face in class". With many Scottish friends, she would often be called Edna MacIshmael or among Irish counterparts, Edna O'Ismail. (Interestingly enough, the prefix "Mac" and "O'" are used to form patronymic names—as in "son of so-and-so", making it like Somali full names which read as signifiers of lineage through the paternal line.) Edna met her first husband, Mohamed Haji Ibrahim Egal, for the first time in London, when the two were students there. Years later, and now back at home, Egal—born, according to Ismail, to "one of the richest men in my country"—would send beautiful flowers, picking her up in his red MG convertible. Then he suddenly disappeared and it later seemed that his father had had a stroke. When he returned and asked her father for her hand in marriage, Edna was angry— that an educated man would do such a thing before wanting to know what she thought. In terms of the local custom, he had of course done the right thing but she made sure to rebel against him.
When they were married, Egal was the leader of the Opposition in Somalia's nascent parliament. As First Lady, when Egal became Prime Minister in 1967, Ismail accompanied him on official trips and is photographed in "glamorous photographs" with Charles de Gaulle, Lyndon B. Johnson and the British Prime Minister Harold Wilson. "I enjoyed it", Ismail reminisces, "I loved it". Ismail did not allow being the First Lady to get in the way of her vocation. "I was a nurse before I was married" and two days a week, she continued to teach her students, deliver babies and wear her uniform proudly. Coworkers were shocked that the Prime Minister's wife would continue working—"when I am with a patient, I treated her with respect" and after a while, people got used to it.
Her sense of duty would show itself in all sorts of circumstances. When after the 1969 military coup, Egal was put under arrest and Ismail under house arrest, a hotel caught fire. An announcement on the radio pleaded for anyone with healthcare expertise to come to the hospital to care for the wounded. Ismail simply walked out of her house. The guards were shocked. She promised them that she was going to the hospital and they could accompany her there if they wished or wait for her at the house until the morning. Having worked all night, she walked home the next morning. The guards were no longer there and did not return again.
Track five: 'These Foolish Things' by Ella Fitzgerald, which has seen Edna through "so many things". For instance, when Egal was in prison after the military coup, along with his cabinet and other Members of Parliament, they were not allowed to communicate with the outside world and visits were not permitted. When Ismail emerged from her house arrest of six months, she took her car—on two occasions—and stopped outside the prison. Putting Fitzgerald's song on full blast—"one of our favourite songs"—she would then take the volume knob on the car stereo to prevent anyone, such as the passing traffic police, turning it down. To pull off the stunt, she would feign a punctured tyre or "release the air out of my tyre!" Her husband later confirmed that he heard the blaring music from inside the prison on these two occasions.
The interview then veered to Oman, where in the late 1970s Ismail spent six years as the wife of the Somali Ambassador there. The only problem for her was that, as the Ambassador's wife, she was not allowed to do paid or unpaid work there. As ever, passion managed to find its expression: Ismail continued to do consultancy work for the UN and started to train midwives in Djibouti. Although Ismail admitted that she would have loved to have children—"every hormone ever invented was tried on me"—"it just didn't happen", before reasoning, "maybe it was a good thing". After all, "if I had children, I would not spend so much time, my resources and energy on the hospital today". "When I was praying for just one or two children, I think God had four million and more [planned] for me. Today, every child is my child". Ismail talked of the warm welcome she receives from young children wherever she goes. "They see me on TV and recognise me".
Another area where Ismail has a particular interest is girls' education, helping to dispel dismissive retorts such as "I'm just a girl. What can I do?" In a note of inspiration, Ismail adds, "I was a girl once and look what I've done. Get up and go and do it!" After all, the hospital itself began as the dream of a young girl. When, aged eleven or 12, Edna heard her father at work in a hospital saying, "I wish I had better forceps, scissors than this", she knew she wanted to become a clinician. "I wanted from then to build a hospital that my father would want to work in", she remembered. Asked what her father would make of it if he saw it today: "I think he would have approved of it". That seems a fitting tribute to a lifetime's work—and a fitting vindication of her choice to become a midwife or nurse, something the local women in her youth sniggered was below the daughter of a doctor.
Edna Adan Ismail appeared on BBC Radio 4's 'Desert Island Discs' and was interviewed by Kirsty Young. The programme can be accessed on the BBC website here. This summary was prepared by Diric Asluub.
Photo: BBC